"Identity" giclée, video-projection, 2013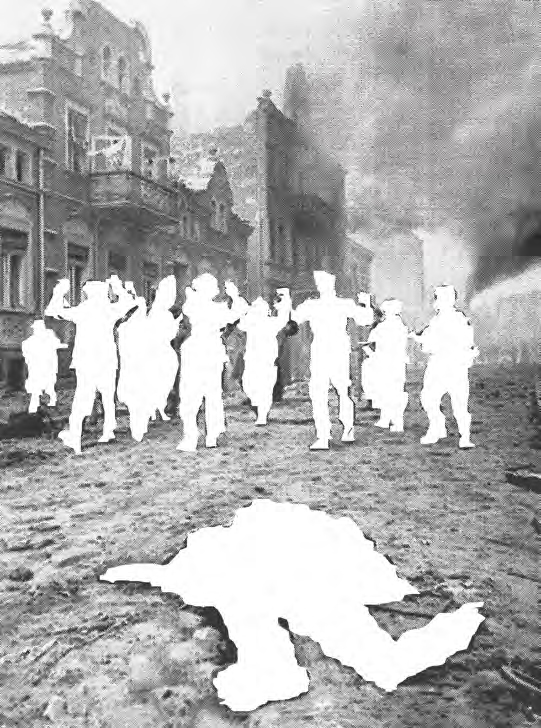 2013 • "SilesiaTopia" Polish-German Exhibition of Conemporary Art,
Rondo Sztuki Gallery, Katowice, Pl
"… I went to the old man. He didn't have any visible wounds, but he was bleeding from his mouth, nose and ears. Suddenly, I noticed three traces of rockets' detonation. In the bag lying on a trolley, there were chickens, which he wanted to save. They all survived and escaped when I had opened the bag. (…)"
Text from memories by Wilhelm Heinrich Schmidt
"From The Fortress Piła to Russian Captivity", 2012

Working on identity through language and art,
I presented the analysis of transnationalism as a
mirror. The identity of a person is strictly connected
to language and is based in historical contexts.
The search for identity through language
brings considerations of neighborhood, relations,
borders, their roles, crossing them literally and
metaphysically. New qualities of fears appeared in
the new/old Europe and not only.
The transformation brings again new strong
elements in a civilization process:
bio-culture and bio- politics, geographical aspects
of culture, gender, historical remembrance –
especially lively in art. The internationalization
and globalization implies stronger than ever individualization
– even nationalization of sociological – cultural practices.
I was wondering about my own place in the flowing life, the fate of my own family based in historical contexts. Thinking about neighborhood relations of Polish-German relations, I wondered about borders, theirs role, about crossing them literally and metaphysically.
I intensively feel the geopolitical position of my family, which lived and worked in a German town Schneidemühl, which became a Polish town Piła after WW II.
Video-installation uses photography:
German prisoners in Russian captivity in the streets of Piła (Schneidemühl) in 1945
and text from memories by Wilhelm Heinrich Schmidt,
"From The Fortress Piła to Russian Captivity", 2012
-
"TOŻSAMOŚĆ" (pl)
Język wyznacza naszą tożsamość, pomimo na szczęście, nie istnienia zagrożeń wynikających z totalitaryzmu – czy to nazistowskiego, czy komunistycznego. Pomimo wolnych granic w Europie – tworzymy je sami – Granice Mentalne.
Interesujące są poszukiwania ludzkiej myśli wyrastające z nieustającej chęci poznawania świata. Rozwój nauki, geometrii, matematyki ma wpływ na rozumienie i odczuwanie człowieka w świecie.
Przypatruję się emocjom, jakie wyzwala podróż, oczekiwanie, inni ludzie, a przede wszystkim czas charakteryzujący się innymi długościami związanymi ze stanem emocjonalnym. Czas może mieć różne oblicza, ale czas w podróży jest odczuwany wyjątkowo.
Lustrem dla mojego własnego poszukiwania tożsamości przyczyniły się do myśli
nie tylko nad własnym miejscem w płynącym życiu, nad losami mojej własnej rodziny umiejscowionej w kontekstach historycznych, nie tylko skłoniły do rozważań nad stosunkami sąsiedzkich narodów-krajów: polsko-niemieckich, ale skłoniły do rozmyślań nad granicami, ich rolą, przekraczaniem nich w sensie dosłownym ale też w wymiarze metafizycznym.
Odczułam intensywnie położenie mojej rodziny w zależności geopolitycznej.  Przed wojną rodzina mojego i mojej siostry – mieszkała i pracowała w Schneidemühl – mieście niemieckim. Dziadkowie byli u Siebie w Domu. Po wojnie tereny te weszły do Polski, granica została przesunięta – i nagle z Niemiec stała się Polska a ze Schneidemühl – Piła. Należy tutaj nadmienić, że tereny te na początku państwa polskiego- były polskie.Niemniej jednak nasi dziadkowie, podejmując decyzję o pozostaniu i nie poddaniu się wysiedleniom Niemców z Piły, musieli stworzyć sobie Nowy Dom wśród Nowych Sąsiadów- Niemcy wśród Polaków po wojnie.Nasz ojciec, jego rodzeństwo nauczyli się języka polskiego w trybie błyskawicznym. Dziadkowie natomiast nie dali rady nauczyć się języka dobrze. Pojawiły się nowe jakości lęków w nowym/starym kraju.
W pracy została wykorzystana fotografia niemieckich jeńców w rosyjskiej niewoli na ulicach Piły (Schneidemühl) z 1945roku.-